Aircon Group were delighted to be involved in the construction of a large cold store at PD Ports working with Rainton Construction. This project enables PD Ports to offer additional facilities that can maximise the benefits a freeport can bring.   
The enquiry was sent to Aircon Group by Rainton Construction in March 2021. Steve Farrell, Aircon Group Managing Director, said: "We were initially involved in the design of the cold rooms due to the work being in our field of expertise, we helped the design consultants where we could before the main tenders were sent out."
The brief was to supply and install refrigeration equipment to chill a large food handling area as well as inspection and equipment rooms. The cold rooms would have to operate between two and four degrees Celsius and three large and refrigerated containers would also have to be installed as part of the project.
For a project of this kind, it was imperative that food safe Kingspan cold room panelling was used and that internal doors have windows and kick plates. Emergency lights would also have to be installed in the handling area, inspection room, equipment room, link corridor to the office area, storeroom and the two docking areas.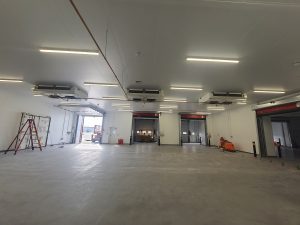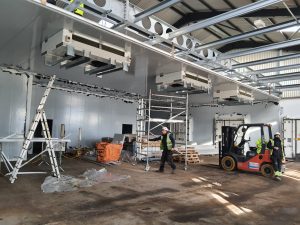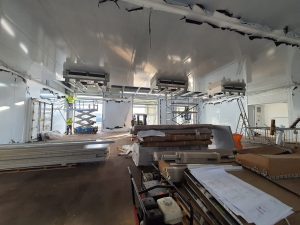 Support was provided to select and install three refrigerated containers that could offer freezing and chilling capacity instantly if required. The food would be checked by staff in the cold store and then stored at temperatures ranging from to chilled food at two degrees Celsius to frozen foods at minus twenty degrees Celsius.
The project was specifically designed to allow access for ships to dock in PD Ports at Teesside and store food as and when necessary.
This was a tight installation project with strict deadlines and the risk of financial penalties being imposed, should we miss a deadline or prevent the programme moving forward. Therefore we planned well in advance for all deliveries, booked in the labour, and managers from Aircon Group were regularly on site to ensure we delivered a high-quality installation to the customer on time.
Aircon Group completed a similar project in the Ascension Islands in 2018. The challenge with that project was getting all the parts overseas, accommodating nine engineers who had to travel by ship initially, working in high temperatures and having the project completed on time to get the engineers out as only one plane flew in every three months due to the damaged runway. 
At the time this order was placed with Aircon Group to supply and install the cold store at PD Ports. Aircon Group were up against rising prices and longer than normal delivery times from our trusted suppliers. However due to great planning, teamwork and good communication we came through on time and didn't affect the programme end date.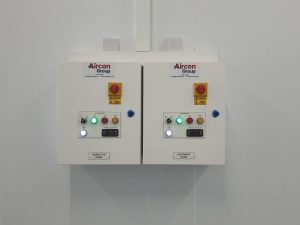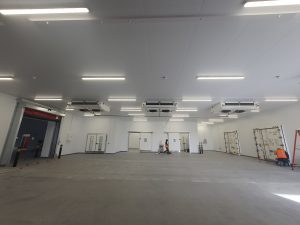 Our working relationship with Rainton Construction was excellent and we give thanks to them for having the confidence in Aircon Group to deliver a quality project. We can say that we have benefited already from the freeport and we look forward to working on future projects that will be required as the port continues to grow and offer additional services. 
For more information on our refrigeration services, give us a call on 01642 249026 (North East office) or 01709 367001 (Yorkshire office).